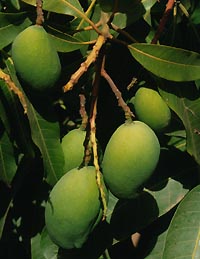 Mangos
The Legend tells you what the arrows í mean and how the terms "right" and "left" are used.
Calhau - Santa Luzia da Terra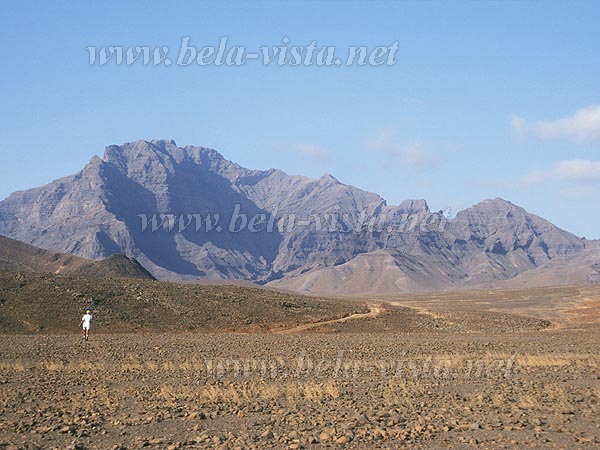 An Oasis - in the middle of a mountain range
| | |
| --- | --- |
| Duration | 2 h |
| Track | 2-4 |
| Orientation | 3 |
List of Tracks
and Classification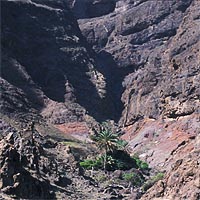 Santa Luzia da Terra
Santa Luzia da Terra is one of the very few mountain oases in a narrow gorge of the otherwise deserted landscape of the southern part of the island. A little spring feeds the irrigation scheme and makes some palmtrees, mango and almond trees flower. An old peasnat walks up every single day with his donkey from Calhau to do his job. Otherwise the planalto is mainly in the hands of truckdrivers fetching gravel and volcano-slack for the building industry of Mindelo town.
The trail crosses the plains of Mancais, where the relentless North-East has taken away the soil and left a desert behind, covered by vulcanic stones.
Anyhow, or may be because of that, the view at a young volcano,Vulcão Viana, burst into peaces by explosions at the ones side and the very old eroded basalt stock of a much bigger volcano, Pico de Vento, is an interesting one.
The contrast between the desert, constantly flagellated by dry trade winds and the little green heart of the Oasis of Santa Luzia da Terra makes us feel the vulnerability and inestimable value of every little place in nature, friendly enough to give shelter and life to humans.
Starting Point
ist the crossing close to the chappel of Calhau. [CALH01] We leave the roads and follow a donkey path ê at almost constant hight following the foot of Pico de Vento. At a place where we find ourselves crossing an imaginary line between the tops of Pico de Vento and Vulcão Viana, there is a bifurcation of the path [CALH22] where we start to walk slightly uphills í. Some 300m the tracks joins a dustroad of the gravel - trucks. It climbs up steeply to a major cross of dustroads [CALH24] After a few meters ëon the crossing road, another dustroad, accompanied by a line of stones í continues uphill. From the pass, we have a first sight on the gorge filled with a little green.
On the way down we pass by the start of another path (track 205) joining in. [LUZI06] The sandy track on the ground of the valley shows the way how to pass by the huge wall of pylons, protecting the entry to the oasis like a town-wall. [LUZIAT]
When walking in the oposite direction

you may chose track that is less interesting but much quicker and easier and brings you down to the football field of Calhau, where it is probably easier to find transport back to Mindelo.